Glass and Stainless Steel Railings

Whatever an architect or designer can envision, we can help turn into a reality. We offer infinite possibilities for putting together trendy, functional and versatile railing system designs. We provide a complete end-to-end solution of stainless steel cable, glass and bar railing systems for interior designers, architects, contractors and DIY customers. We use only precision manufactured components to ensure optimum installation and function. In most cases they can be assembled with superior glue, eliminating the need for costly, messy welding and making the railing project cleaner, faster, simpler and more profitable.
The usual cycle for projects is the following: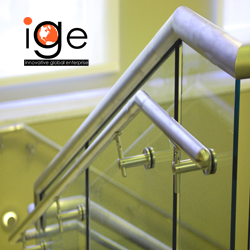 1. You send us pictures/drawings/dimensions. Our in-house estimating department will provide you with the added benefit of streamlining cost and time. Our estimators will work directly with your staff to take the broad strokes of your project and make it both feasible and economical while complementing the customer's vision.
2. We return Autocad drawings to the customer for approval or modification with optimum design components from various sources called out. We work with licensed engineering firms in all 50 states. Our engineering department provides design consultation, design load calculations and machine shop drawings using the latest CAD programs. Our engineering affiliations will guarantee that your railing needs of the project meet or exceed local and national engineering criteria (IBC, OSHA and SBC load and design criteria).
3. Once approved, we produce/fabricate/ assemble/ modify/finish all the railing systems per drawings. We also take field measurements to ensure optimum fit during installation.
4. The product is then delivered to the job-site / customer. We take utmost care to ensure the finished product is not damaged during transit. Glass panes are delivered directly to the jobsite from our glazing supplier to minimize handling.
5. Our expert installers / erectors install railings. They strive to provide a beautiful, clean appearance through concealed fasteners, swedging or welding, while complying with structural specifications.
IGE's commitment to each and every customer goes beyond its attention to detail, quality and innovation. Our team of sales professionals and technical experts are dedicated to providing the best customer service, including complete design, critical path analysis, BIM data, spec capabilities, installation support and delivery management. IGE is well known for its high quality, value-driven products and superior customer service.
Call us today for a free estimate - we do the take-off and give you a price break-down.

Copyright 2014 Innovative Global Enterprise, Inc. All Rights Reserved.